Margerand 1950 Paris French Bracelet Platinum 150.71 Cts Diamonds & Sapphires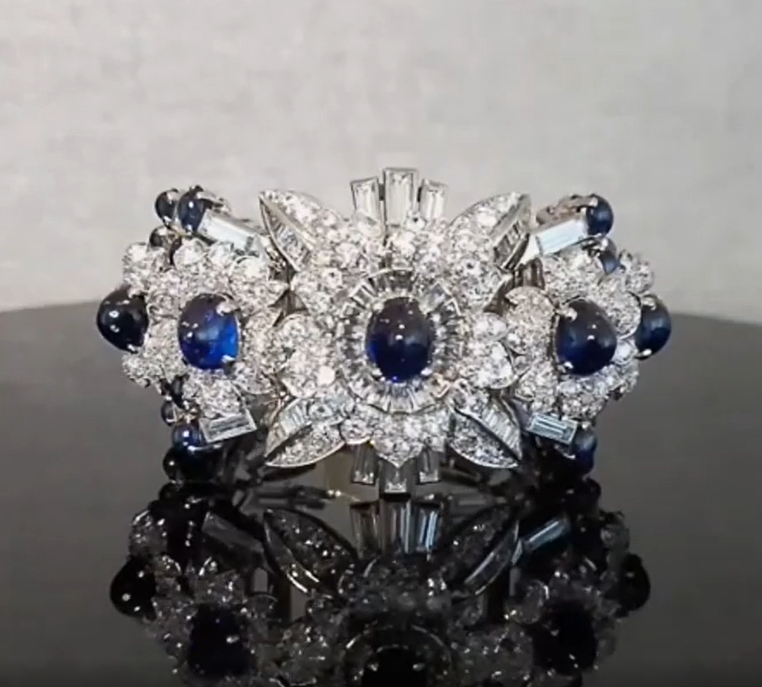 An exceptional statement piece o jewelry, created back in the 1950's in Paris France at the jewelry atelier of Margerand. This flamboyant bracelet was carefully crafted in the late art deco and retro styles with movable parts made up in solid .900/.999 platinum. It is embellished with a great selection of natural earth mined gemstones and fitted with an integrated boxed push security lock and a hinged slash for extra safety.
Mounted with an assortment of 493 diamonds of various cuts and sizes. The trapezoidal cut diamonds stand out in great rarity, for their quality, they are white colorless, their clarity and for their large sizes.

The selection and choice of the 31 sapphire gems is exceptional and correct, since they are perfectly graduated in size, clarity, transparency and for their great blue color saturation.
The Diamonds
Round Brilliants: Mount in a pave setting, with 360 pieces, 28.80 carats.
Round Brilliant: Mount in a four-prongs setting, with 1 piece of 0.75 carats.
Trapezoidal Faceted: Mount in cased bezels, with 12 pieces, 13.46 carats.
Emerald Faceted: Mount in rectangular cases with 30 pieces, 24.8 carats.
Caliber Baguettes: Mount in channel setting, with 10 pieces, 2.16 carats.
Fancy Baguettes: Mount in channel settings, with 62 pieces, 5.58 carats.
Straight Baguettes: Mounted in walls setting, with 18 pieces, 1.44 carats.
All diamonds are calibrated white colorless E/F/G color and mostly all of them are VS-1 / VS-2 with just a few very minor ones SI-1 at the hidden parts.
The Sapphires
Sugarloaf: Mounted in the centers in four prongs settings, with 7 gemstones distributed as five oval pyramidal sugarloaf cabochons cut (10.85 x 8.95 x 7.2 mm) and two oval cabochons cut (8.9 x 7.5 x 4 mm) carved from natural vivid royal blue sapphires, with an approximate total weight of 43.51 carats.
Oval: Mounted at the sides in four prongs settings, with 24 oval cabochons cut (5.1 x 6 x 3.5 mm) carved from natural vivid royal blue sapphires, with an approximate total weight of 25.20 carats.
All sapphires are calibrated in transparency, sizes, symmetry and their blue color saturation. They are not treated in any form or heated.
Birthstone: Sapphires for the month of September.
Weight: 184.89 Grams, (118.52 Dwt).
Size: 7.25 Inches, (18.5 Cm).
Measurements: The widest part in the center is 43 mm by a height of 21 mm (1.70 x 0.83 Inches).
Hallmarks Stamped with French marks; the heads of the eagle and the dog for the assay and warranty of the 18kt gold and the .900/.999 platinum respectively. The maker's maitre mark MD inside a lozange cartouche associated to the atelier of Margerand.
Collateral: This bracelet is accompanied by the certificate number 1105385 from the AGL laboratory stating all sapphires are natural with no evidence of heating.
Collateral: It is accompanied with an independent appraisal certificate stating all the characteristic of the gemstones and a diagram with the accounting and explanation.
Collateral: It is accompanied by a luxury presentation jewelry box.
Condition: The overall condition of this bracelet is excellent. Beside the little normal wear, there is no damage to the platinum. All gemstones are secured in the settings. This piece has been carefully inspected to guarantee the condition and authenticity.