Category Archives: Harry Winston
Inspired by the Harry Winston archives, each piece in the Incredibles is a one-of-a-kind expression of the House's iconic style. Handcrafted in platinum and set with the world's finest diamonds and precious gemstones, each magnificent design represents the culmination of efforts between the House's expert gemologists, master craftsmen, and designers working together to create jewels of incomparable beauty and brilliance. An oval sapphire weighing 13.45 carats, set as a ring with 16 marquise and round brilliant diamonds weighing a total of approximately 3.28 carats, set in platinum.

Harry Winston's The Incredibles Collection
The pinnacle of the House's craftsmanship and design.  The creation of a Harry Winston jewel begins with a study of the extraordinary – the finest diamonds and the rarest gemstones in the world. Expertly chosen for their superlative quality, these luminous stones are the sparks that ignite the imaginations of Harry Winston designers and craftsmen, who work closely together to transform each individual gem into collective works of art. The end results are brilliant jewels of impossible beauty. Jewels so remarkable and so rare, they can only be described by a single word: Incredible.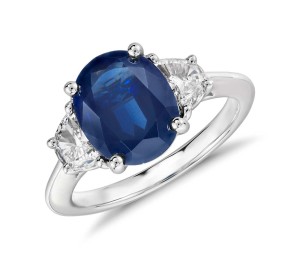 Gorgeous 1.78 Ct Natural Sapphire & Diamond Engagement Ring 18K White Gold